Bachelor of Arts in English Literature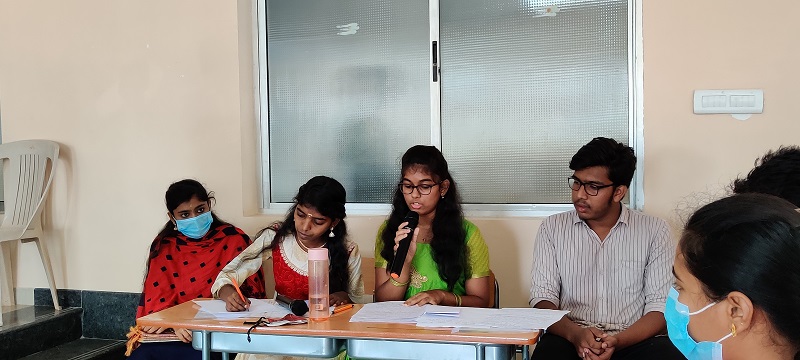 Eligibility
HSC Pass in any stream from Arts & Science
About the Department
In 2020, the English Department was founded with the goal of fostering and strengthening students' literary spirits. The English Department is commended for giving students well- rounded academic and practical expertise. The department's main objective is to aid students in their overall development. Assisting students in their overall growth is the department's main goal. By developing the children's linguistic skills and instilling a lifelong love of books, we hope to ensure their unwavering advancement. To improve the students' ability to write academically and for research purposes, a variety of academic sessions, seminars, guest lectures, workshops and symposiums are regularly held. By planning different departmental functions, the department is equally focused on encouraging creativity, helping people get over stage fright and helping people grow as leaders. A number of MOUs have been signed by the Department.
Vision
To help non-native English language learners gain self-assurance, hone LSRW competencies and mature into responsible world citizens.
To establish the department as a key resource for gaining information and a hub for academic excellence.
Mission
To improve the learners' language acquisition by giving them opportunities to practise their language skills through a variety of research-based activities.
To instil a love of reading in them and shape their personalities into mature, sociable individuals.
Best Practices of the Department
From the first year onwards, all students are urged to choose a topic and give a two-minute presentation on it to the class.
Students are encouraged to act as journalists during every assembly and report on events throughout the world.
The Literary Club occasionally puts on events to improve LSRW abilities.
Daily spoken English classes are held from 3 to 4 PM.